Inspiratie en advies ook op facebook cityplotter www.facebook.com/cityplotter
Cityplotter dealer van Brother ScanNcut, Cricut en Silhouette snijmachines. Voor plotters, accessoires en advies kunt u bij ons terecht
Cityplotter al jaren erkend dealer van snijplotters. De merken die wij voeren zijn Brother ScanNcut, Cricut en Silhouette. U kunt bij ons terecht voor de machines, accessoires, hittepersen en advies.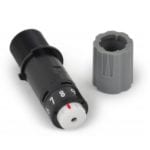 SNIJ INSTELLINGEN VOOR DE VERSCHILLENDE FOLIES.
Flexfolie dun en flexibel met een plastic drager voor op textiel in veel kleuren en designs
Patroon spiegelen
Materiaal met de glans of design kant op de mat plakken
Materiaaltype Heat Transfer Smooth
Effen – mes op 2, dikte 20, snel op 8
Glitter – mes op 2, dikte 15, snel op 8
Fashion – mes op 3, dikte 20, snel op 8
Flockfolie met een plastic drager en een wat dikkere folie lijkt op fluweel voor op textiel
Patroon spiegelen
Materiaal met de glanzende kant op de drager (plastic drager op de mat)
Materiaaltype Heat Transfer Flocked
Effen – mes op 3, dikte 33, snel 5
Vinylfolie voor het maken van stickers met een drager van papier aan de achterkant
Materiaal met de papierkant op de mat plakken, let er wel op dat de mat heel erg plakt. Voordat u er vinyl (papier) op plakt eerst even de mat op een stofvrije theedoek. Advies gebruik een light take / licht plakkende snijmat voor dit materiaal.
Materiaaltype Vinyl Mat / Glans / Glitter
Glans Vinyl – mes op 1, dikte 7, snel 7
Mat Vinyl – mes op 2, dikte 7, snel 7
Indien u iets kleins gaat uitsnijden met vinyl raden wij aan om de snelheid hoger te zetten.
Deze snij instellingen zijn advies instellingen en het zou mogelijk kunnen zijn dat ze iets aangepast moeten worden afhankelijk van materiaal en mesje. U kunt altijd een testsnede maken alvorens u uw afbeelding gaat snijden.
BROTHERSCANNCUT WERKEN OP DE COMPUTER
Silhouette Machine opstarten
WELKE FOLIE IS DIT?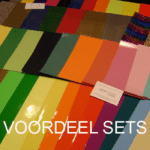 HET BEDRUKKEN VAN TEXTIEL KAN MET VERSCHILLENDE MATERIALEN
FLEXFOLIE – flexfolie is dun flexibel materiaal in verschillende kleuren en printen te verkrijgen. Je kan meerdere lagen flexfolie over elkaar persen.
FLOCKFOLIE – flockfolie is fluweelachtig en in vele effen en neon kleuren te verkrijgen. Wij adviseren om niet meerdere lagen over elkaar te persen.
PRINTBAAR FLEXFOLIE – printbaar flexfolie dan is net zo dun als flexfolie en daar kan je een afbeelding in zijn geheel in 1x op printen, uitsnijden en dan op het shirt persen. Je krijgt er een apart vel bij dat is de drager. http://cityplotter.nl/product/flexfolie-printbaar-voor-de-inktjetprinter-sp-3965/
PRINTBARE SHEETS VOOR DONKERE OF LICHTE STOFFEN –  Deze speciale transfers van Silhouette zijn prima geschikt om een afbeelding of bijv. foto 1x op een shirt over te brengen. Even kiezen of het op donkere stof komt of lichte stof.http://cityplotter.nl/?s=printbare+&post_type=product
STRETCH FLEXFOLIE – Stretch flexfolie is speciaal voor gebruik bij sportkleding of kleding waarbij op de flexfolie veel rek komt te staan. In de kleuren wit en zwart standaard op voorraad.http://cityplotter.nl/?s=strech&post_type=product
BLOCK OUT FLEXFOLIE – Block out flexfolie is speciaal voor kleding waarvan de basis kleur gaat doorlopen door bijv. witte flexfolie. Als u sportkleding wilt bedrukken met een felle kleur bijv. rood en u wilt er witte flexfolie op doen dan adviseren wij de witte block out flexfolie te gebruiken zodat u geen last heeft van doorbloeden.http://cityplotter.nl/product/flexfolie-block-out-wit-white-sb-3970/
TEXTIELVERF – Textielverf is heel veel kleuren te verkrijgen en ook in glow in the dark. Een sjabloon kunt u maken met bijv. vinyl, freezerpapier en daarna kunt u het met textielverf behandelen.http://cityplotter.nl/?s=stof+inkt&post_type=product
GRATIS FOLIES VAN CITYPLOTTER BIJ UW NIEUWE SILHOUETTE MACHINE
Als u een nieuwe Silhouette machine koopt bij ons dan krijgt u daar een gratis pakket folies bij. Daarmee kunt u testen, oefenen en uitproberen. Het gratis pakket heeft vinylfolies voor het maken van stickers. De folie heeft altijd een papieren drager. Soms ruitmotief, soms tekst of gewoon wit. De andere folies zijn folies om textiel mee te bedrukken. De folie die dun is en flexibel is flexfolie deze heeft een plastic drager. De andere folie heeft ook een plastic drager maar is dikker. Dit is flockfolie en deze is fluweelachtig.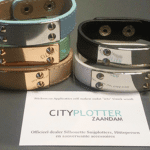 HOE MAAK IK EEN MOOIE AFBEELDING OF TEKST MET DE CURIO EN DE ETCHING TOOL IN DE ARMBAND OF OP TAG (NAAMPLAATJE)?
je kiest voor het icoon open het reliefvenster (staat rechtsboven)
relief maken
relief aanbrengen / verwijderen
crosshatch
ruimte 0,010 als je het helemaal opgevuld wilt hebben (wordt geheel blauw)
icoon snij mesje kies voor materiaal metal etching sheets
plaats 1x plaat 1
plaats het armbandje op de juiste positie op de snijmat
plaats de blauwe etching tool in de houder
snelheid 5
diepte 30
Deze werkwijze kan je uiteraard ook gebruiken bij andere materialen die je    wilt etsen/graveren denk ook aan bestek, sleutelhanger etc.
Veel plezier ermee!!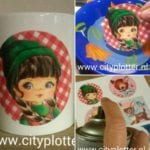 Werken met DECAL
U maakt een ontwerp in het Studio programma dit kan een foto of afbeelding zijn, tekst of een combinatie.
U print de afbeelding op het decal papier (u moet printen op de gladde kant de ruwe kant is de papieren drager). De print laat u even drogen.
Dan blanke lak erover spuiten of met een roller aanbrengen vervolgens laten drogen (kan met föhn) dan nog 1 lak laag erover.
Decal uitsnijden (als u registratietekens heeft geplaatst) of knippen. De uitgeknipte afbeelding in water leggen en zodra het op krult  eruit halen. Dan even op keukenpapier leggen (vouwt het weer uit).
Vervolgens vingers nat maken en de afbeelding op het product leggen.
De papieren drager kunt u nu voorzichtig verwijderen.
Met uw vingers (zorg dat ze goed nat zijn anders gaat de decal stuk) kunt u de applicatie nog positioneren.
Het meeste water met keukenpapier voorzichtig weg deppen en vervolgens laten drogen (ong. 2 dagen) of aflakken in hobby oven of een laklaag erop aanbrengen.
Decal kan gebruikt worden op glasblokken, kaarsen, bekers, vazen, hout, naamlabels (tags). etc.
Veel creatief plezier met uw decal!!
Eerst printen dan snijden met behulp van registratietekens met Silhouette.
Afbeelding kiezen in het Studio programma
Papierformaat kiezen A4 of letter bijv. en snijmarge aanvinken (designpagina icoon)
Registratietekens type 1 kiezen (icoon naast designpagina)
Afbeelding selecteren en kiezen voor buitenrand snijden. De afbeelding  zelf op niet snijden zetten. En de kleur kiezen voor hetgeen geprint moet worden. De lijndikte ook even verhogen.
Dupliceer zoveel als gewenst de afbeelding (blijf wel binnen de rode lijnen)
Print de afbeelding
De print op de snijmat plakken in dezelfde positie als geprint en nu laten snijden.
Soms is het beter om de klep van de Cameo even dicht te doen
Als bericht komt registratie mislukt check dan nog even voorgaande stappen en gewoon opnieuw proberen.
U kunt deze methode gebruiken om zelf stickers te maken met stickervellen, of applicaties met printbaar flexfolie of printbaar vinyl.
Veel mooie creaties gewenst

Hoe werkt PRINTBAAR FLEXFOLIE?
U krijgt 2 folies die beide uit 2 lagen bestaat. U maakt een afbeelding in Studio of Canvas (niet spiegelen)
Die print u uit met een inktjet printer (met originele inkt cardridge en gebruik van de juiste papiersoort instelling)
De afbeelding moet geprint worden op het witte vel flexfolie. Als u een hoekje losmaakt treft u een laag aan dat is papier/plastic en 1 laag flexibel materiaal.
De print moet op het flexibele materiaal komen.
Vervolgens knipt u de afbeelding uit (snijden kan uiteraard ook maar dan moet u wel voor het printen registratietekens aanmaken of in Canvas scannen van de afbeelding en dan snijden). Als u de print even heeft laten drogen dan pakt u het doorzichtige vel, dat heeft ook 2 lagen. U plakt dan de plakkende laag over de print (dan heeft u hetzelfde effect als u met flex of flock zou hebben want dit plakkende gedeelte is de drager.
De witte papieren papieren drager kunt u nu verwijderen (of heeft u reeds eerder gedaan ook prima).
Nu heeft u 1 geprint flexibel vel en daarop een plakkende drager. De afbeelding is naar boven gericht en de plakkende laag naar beneden (plakt op het textiel).
U legt het nu op het textiel, teflon vel erover en persen 165 graden 15 sec.  Teflon vel eraf, drager eraf en nog even napersen.
Binnenste buiten wassen.
Veel plezier en we zijn benieuwd naar uw creaties!
BLUETOOTH CONNECTIE MET DE SILHOUETTE CAMEO 3
De Silhouette CAMEO® is compatibel met Bluetooth® en staat
draadloze communicatie toe. De
"Silhouette CAMEO® Bluetooth® Edition" bevat een
voorgeïnstalleerde Bluetooth® adapter. Bluetooth®
is ingeschakeld voor alle andere Cameo edities, maar u zult een
Bluetooth® adapter moeten installeren.
De Bluetooth® bevindt zich aan de onderkant van de machine in een
gedeelte dat toegankelijk is door
middel van een gewone schroevendraaier.
Zorg dat Bluetooth® geactiveerd is, om uw met Bluetooth®
uitgeruste CAMEO 3 te verbinden.
U zult een symbool Bluetooth® zien in de linker bovenhoek van uw
CAMEO-scherm. Als er geen
symbool aanwezig is, activeer Bluetooth® dan in het menu
"BLUETOOTH" menu, dat te vinden is in de
instellingen van het toestel CAMEO 3 ( ).
stroom
Selecteer "Bluetooth Cutter toevoegen…" in het Silhouette menu
dat te vinden is bovenin uw software
Silhouette Studio®. Er zal een dialoogveld verschijnen dat de
toestellen met Bluetooth® toont. Selecteer
de CAMEO 3 in de lijst met toestellen; dan zal de software gaan
synchroniseren. Na een paar seconden
wordt de status van de CAMEO getoond als "Gereed" in het paneel
NAAR SILHOUETTE ZENDEN en
is de installatie voltooid.
PRINTBAAR VINYL
Printbaar vinyl is verkrijgbaar in A4 en A3 formaat. De Vinylfolie print u met een inktjetprinter en originele inkt cardridges. De afbeelding uitsnijden of knippen en op het product plakken. U kunt het afwerken met een spuitlak, verlak of een doorzichtige vinylsticker.